Esperienza
Utilizing Data to Transform Production - BMW Tour
AIMS OF THE TRAINING
At the end of the masterclass, participants will know how to use the right data, tools and technologies and to implement successful industry 4.0 projects in their own company.
KEY TOPICS
Digital Continuity: what data to collect and how
Predictive maintenance, smart production
Use cases of tools and technologies for industry 4.0 projects
IoT, smart sensors, augmented reality, additive manufacturing
From Lean, Manufacturing Execution Systems to Industry 4.0
How to prepare and secure an Industry 4.0 project
Guided tour of BMW factory
BMW PLANT BENCHMARKING TOUR
"Passion and Precision"
With its brands BMW, MINI and Rolls-Royce, the BMW Group is the world's leading premium manufacturer of automobiles and motorcycles.
The Group operates 31 production and assembly sites in 14 countries.
At the BMW Group's Headquarters in Munich, some 7,000 employees from over 50 countries work in innovative production processes and produce 900 cars and up to 1,400 engines each day.
When it comes to digitalization and Industry 4.0, the BMW Group focuses on the following key areas in production: intelligent tools can directly support staff in carrying out their tasks and simplify complex processes, simulation and factory digitalization, planning and control systems (automated data analyses lead to major progress in improving quality and efficiency), smart data technologies providing real-time information on the entire supply chain, and advanced analytics, automated data analyses improve process safety at the BMW Group's plants.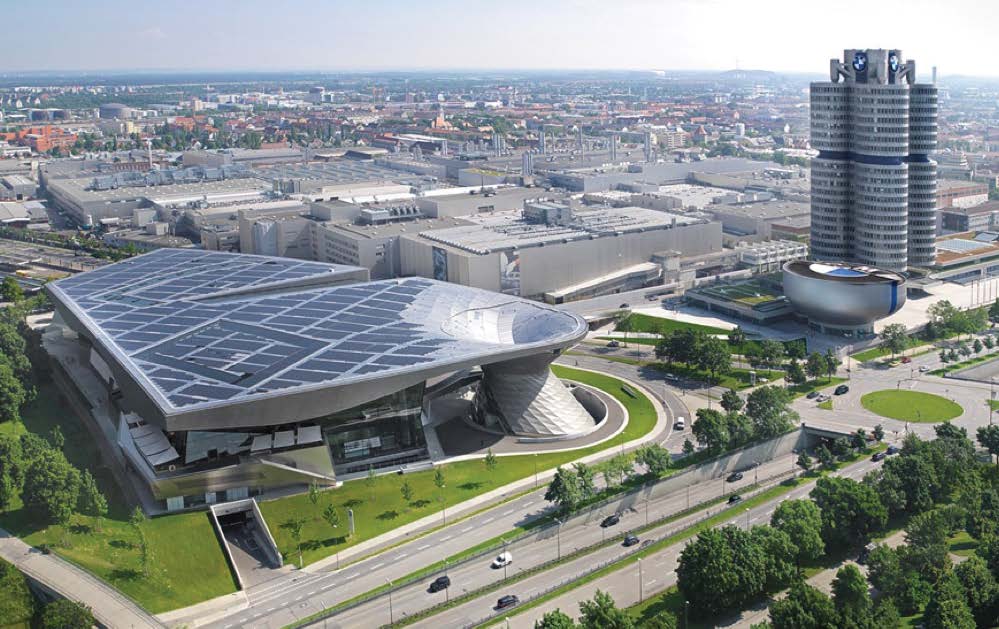 The executive tour is operated in partnership with industry 4.0 insight
For the Registration you will be redirect to the website of the partner
The order will be placed with the conditions and terms of Industry 4.0 insight
PROGRAM
DAY 1
BMW PLANT BENCHMARKING TOUR

Task: Benchmarking BMW's Industry 4.0 readiness

THE ESSENCE OF INDUSTRY 4.0 AND MANUFACTURING

Where are we now and where are we heading
New business models and new technologies

Lunch
USE CASES OF TOOLS AND TECHNOLOGIES FOR I4.0 PROJECTS

IoT tools, smart sensors
Virtual reality/augmented reality
Additive manufacturing
Best practices, cost analysis
DAY 2
MANUFACTURING EXECUTION SYSTEM

Connecting ERP and Industry 4.0 projects
Use case: Application of Electronic Batch Report (EBR), LIMS quality controls and SCADA communication

FROM LEAN TO I4.0: HOW TO BUILD ON THE STRONG FOUNDATIONS IN LEAN

I4.0 as tools for Lean Manufacturing: Augmented Maintenance, Real-time
Indicators, Visual Communication, Digitalized operations, e-Kanban
Predictive Maintenance
Maintenance of the technical data: who is in charge and what system to use?

Lunch
HOW TO PREPARE AND SECURE AN INDUSTRY 4.0 PROJECT

Resources, governance, change management, security issues
Costs, potential earnings and ROI
Level of maturity: POC or Core Model?
Lessons learned from successes and failures of real I4.0 projects

EXERCISE: BUILDING AN INDUSTRY 4.0 PROJECT ROADMAP
DIGITAL CONTINUITY

Contextualization: how to link data from the field with information from
management systems (Work orders, Control plans, ...)?
Standalone vs integrated information systems
Managing the responsibilities of different systems (e.g. ERP, PLM, SCADA, specific DB, Excel)

CONCLUSION AND KEY TAKEAWAYS
TRAINER
Frédéric Leveugle
Frédéric Leveugle is a trainer and consultant in Lean Manufacturing, Digitalization and Manufacturing Execution System (MES) with over 20 years of experience in various management and consulting positions. He is an expert in Industry 4.0 tools and technologies such as smart sensors, VR/AR, IoT, MES and digital continuity. At Creative IT, Frédéric led a team of consultants implementing various integration projects of MES in the manufacturing, electronics and food & beverages industries. Prior to that, he managed projects at the leading tyre manufacturer Michelin in France and China and was also Deputy Plant Manager in Algeria. Frédéric started his career in an industrial engineering consulting company with a focus on improving quality, productivity and supply chains. He studied Engineering and is a certified PMP (Project Management Professional) and Lean Six Sigma Black Belt. He is convinced that industrial engineering together with digital transformation are key for the industry of the future.